Pulp & Paper Bleaching
Application-Related Downloads
Application Summary
Wood pulp bleaching to attain the desired level of paper whiteness
Pump bleaching agents into mixing towers to maintain correction solution
Chemical resistant pump materials
Paper pulp bleaching equipment
50 mL/min (0.79 USG/hr) to 19L/min (300 USG/hr) flow rates
Applications Overview
Pulp & Paper Manufacturing Process
The following illustration is an overview of the entire Pulp & Paper manufacturing process. Notice that Micropump pumps have application in three of the process steps. This application brief focuses on the application of Micropump pumps in the Bleaching process step.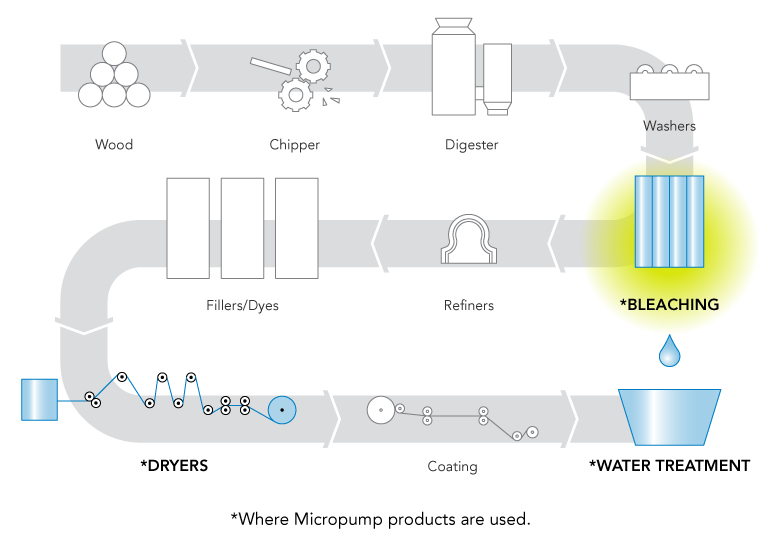 Application Focus: Bleaching
In the paper manufacturing process, wood pulp leaving the digester wash unit often must be bleached to attain the desired level of paper whiteness. Bleach plants whiten pulp through three to five stages of bleaching and water washing.
Micropump pumps are used in these applications to deliver the appropriate bleaching agent and to maintain the proper chemical balance in the bleaching towers.
Micropump pumps deliver smooth, controlled flow of whitening agents to the bleaching towers.
FLOW RATE: 0.050 to 18.9 L/min (0.79 to 300 USG/hr) flow rates
We have variable speed pumps with flows from 0.158 to 42.9L/min (2.5 to 680 USG/hr)
CHEMICAL RESISTANT PUMP MATERIALS
Our pump construction materials stand up to most pulp bleaching chemicals
We offer positive displacement gear pumps for precise metering of bleaching agents
Our pumps have magnetic drives, so no shafts penetrate the pump cavity, eliminating leak-prone dynamic shaft seals
We offer Service Kits for easy field serviceability
Performance Summary
This chart indicates optimal operating ranges for recommended products.
Micropump Products Optimized for this Application
Micropump cavity style pumps are commonly used for this application. All pump base materials are 316 SS with PTFE wetted materials.
High Pressure
The Micropump Advantage
The unparalleled quality, performance record, reliability and long operating life of Micropump pumps and our extensive engineering expertise make Micropump a vital partner in this demanding market.